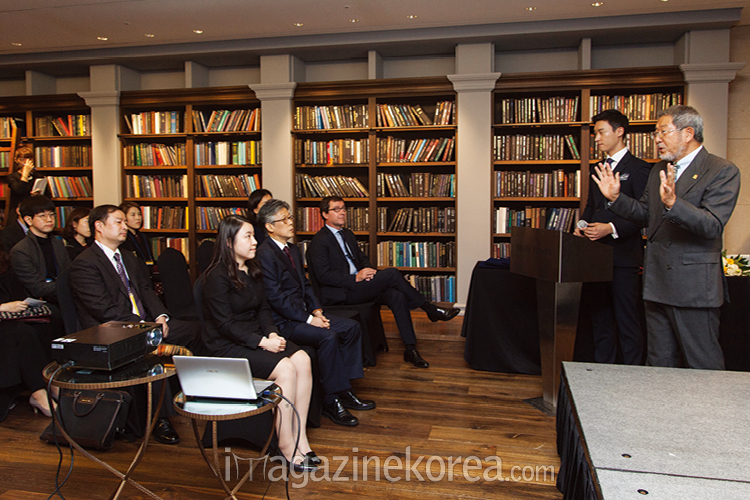 A high school student who put pesticide into a 1.5L cider bottle to kill his father, a man rolling the earth from the dawn of early winter, the story of a woman who made an appearance in 15 years to her old lover's funeral. A story about finding his wife's first love, the thought of a price to pay for ones' life, the sorrow for those who lost the playground dirt and arcades….
The second Esquire Montblanc Literature Award, hosted by Esquire and sponsored by Montblanc, has announced six winners. On November 5, the award ceremony was held at the State Room on the 26th floor of the Namsan State Tower in Hoehyeon-dong, Jung-gu. One winner for short story, one for the Montblanc Award (grand prize), one winner for best prize, and two winners for best prize in the essay category was awarded.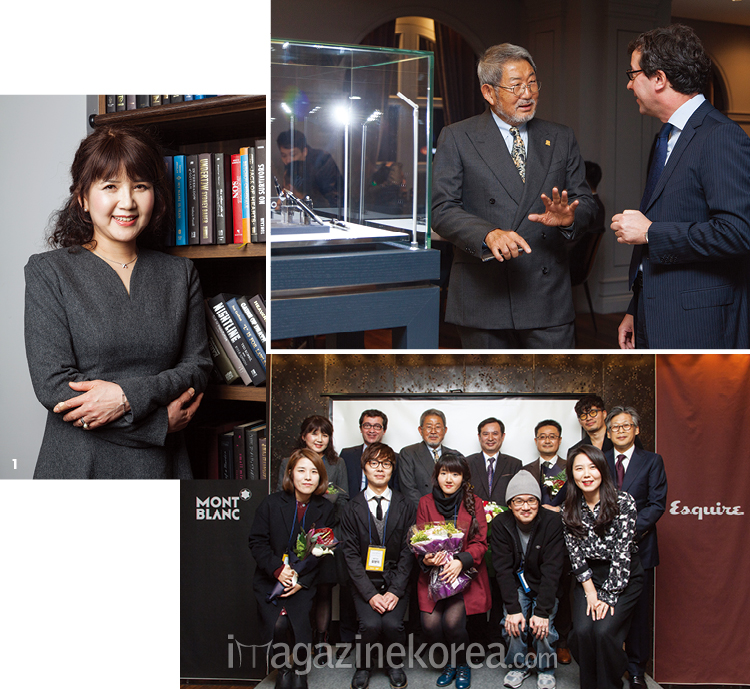 1 The Grand Prize Winner for Short Stories, Moon Seo Jung
This year's award ceremony was held with Kaya Media CEO Kim Young-chull, Sylvain Cost of the head of the Montblanc Korea, Min Hee-sik, editor-in-chief of <Esquire> who is one of the juries, Professor Kang Yoo-jung, from Gangnam University, Shin Ki-joo, editor for <Esquire> and author Jang Kang-myung. Last year's award winners Lee Young-mi, Yoon Go-eun, Yeom Seung-sook, Jeon Seok-soon, Lee Woo-sung, Kim Min-jung, Hwang Hyun-jin and Jung Young-hyo was also present.
CEO Kim Young-chull announced the significance of the literary award through his greetings. "Twenty years ago, there were 10,000 bookstores in Korea, and I saw statistics showing that there are only a few hundred left. I started the Return of the Essay four years ago to break this reality. I also want to encourage people to read and write more through literary events like today."
Sylvain Costof, the head of Mont Blanc Korea which is also the sponsor company, introduced the long relationship between Mont Blanc and world-class literature writers. "Montblanc has launched a number of escribulators to commemorate the authors, starting with the Hemingway edition in 1992. Ernest Hemingway also has a deep relationship with <Esquire>. Today, I'm happy to meet some of the best young writers."
The grand prize for short stories went to "How do tears exist" by Moon Seo Jung. It is about a group of members of a humanities reading club who became in their late 30s and reunited at a member's funeral. A female member with the sensual body, who had been unusually tearful, appears in front of her ex-lover's funeral, and men bring out their own memories associated with her.
Jang Gang Myung, who is one of the juries, appraised "How do tears exist" as "sexy with quality" and that it maintained a high level of tension. Author Moon Seo Jung "I'm pleased to see my work that was sleeping inside my computer could finally meet readers. I hope the main character receives a lot of love".
Best prize for short story went to Kim Nam Su on "Eumgok", and the excellence awards went to Cho Hye Rim for "Let's Just Roll the Earth". 'Eumgok' is a piece about what happened to the main character after his father returned after 10 years of extramarital and violence. "Let's Just Roll the Earth" depicts a world seen by a woman in her 20s who works part-time at a gimbap restaurant after graduating from high school without any particular dreams or plans.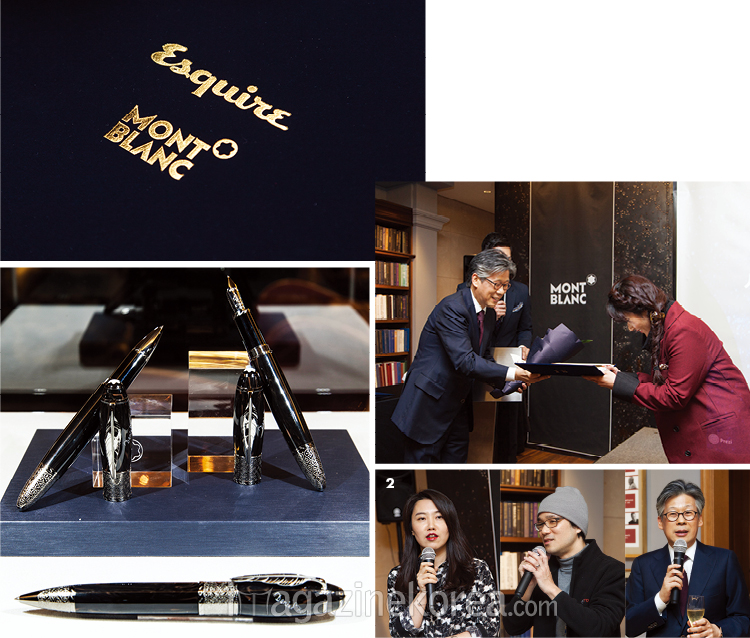 2 (From the Left) Jury Gang Yu Jung, Jang Gang Myung, Min Hee Sik
"A Sunday Afternoon" by Jung Byung Jin received the Montblanc prize which is the grand prize. It is a story of a cute husband who hears about his wife's first love confession. "I Still Want a Mustang" by Kim Won Ik and "Expensive Life" by Kim Na Hyun received the excellence prize. Each piece conveys small realizations of life by 'a Mustang that the character saw 15 years ago" and "travel expense of 2.7million won for a trip to Portugal".
Author Moon Seo Jung has an award winning history in the essay category of the annual spring literary contest of < Jeonbuk Domin Newspaaer> in 2009, < Jeonbuk Daily Newspaper> in 2010, and <Buddhist Newspaper> in 2015. "It was the hardest time to learn how to speak through metaphors and symbols from a character in during the transition from an essay writer to a novel writer," she said. "After winning the Esquire Montblanc Literature Award, I think I became a real fiction writer."
Kim Nam-su, who used to work as an advertising editor, entered the department of broadcasting and arts creation two years ago at the age of 49. I learned about the "Sangju village hall cider pesticide case" this summer and wrote "Eumgok" which is a similar story. He said "People live up to 100 years now. I'll be showing some ingenious ideas and a lot of activity regardless of my age."
"Let's Just Roll the Earth" writer Cho Hye Rim was born in 1987. She decorated her last days of her twenties with an award. She is working as a television writer after graduating from Seoul Institute of Arts. She has been elected to a literary magazine with a children's story. She told "I don't have big plans. I just want to write a comfortable yet delicious story like a barley tea."
Jeong Byeong Jin, winner of the Monblanc Award in the essay category, is a former computer programmer. The 2011 earthquake in Japan became a turning point in his life. "I was on a business trip to Tokyo. I thought 'I will do what I want to do for the rest of my life' while the building was shaking." Soon he resigned from work a year later, and moved to Sokcho and started writing the next year. He is also the only applicant to have both his novels and essays on the shortlist.
Kim Won Ik, who looks like novelist Kim Young Ha, was born in 1986. He is working as a barista at a café in Busan. His award-winning work, "But I Want to Drive a Mustang," contains deep longing for his school days in Nam-gu, Busan.
Kim Na-hyun, author of "The Expensive Life," was born in 1985 and graduated from Chosun University in the department of literary and artistic creation. She is currently working at an English library in Gwangju. "The Expensive Life" was written in remembrance of the past when I was timid and lost my chance. I realized that I couldn't grow unless I paid the price I had to pay in my life."
Montblanc Literary Award, which only selected winners in the novel category last year, expanded its field to include short stories and essays this year. Just before the screening, 495 short stories, 272 essays and a total of 767 were received. The prize for the short story category was 5 million won, 3 million won for the Montblanc Award, 1 million won for the excellence award, 3 million won for the essay category and 1 million won for the excellence award, respectively.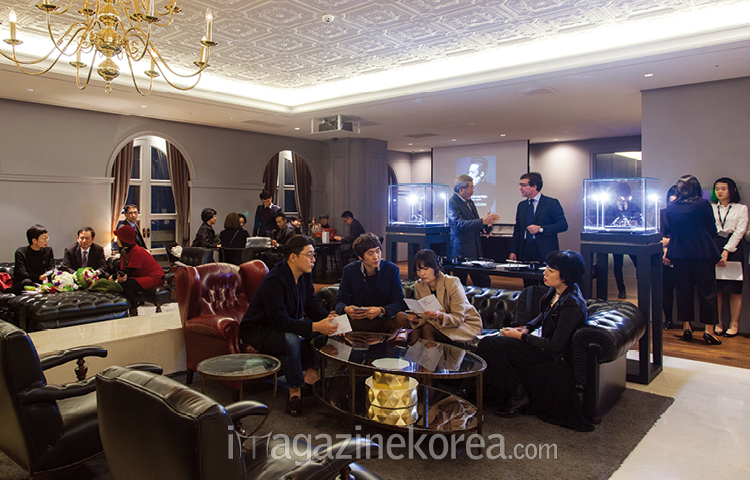 The 2nd Esquire Montblanc Literary Award List of Winners
Short Stories
Grand Prize
Moon Seo Jung  "How Do Tears Exist"
Montblanc Prize
Kim Nam Su 'Eumgok'
Best Prize
Cho Hye Rim "Let's Just Roll the Earth"
Essays
Montblanc Prize
Jung Byung Jin "A Sunday Afternoon"
Best Prize
Kim Won Ik "But I Want to Drive a Mustang"
Kim Na Hyun "Expensive Life"